Wallingford Kitchen Remodeling Tips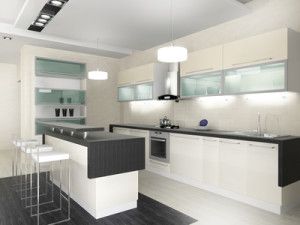 Kitchen remodeling is usually harder than remodeling any other part of the house – mainly because this is the area where lots of work will be done. For functionality, the kitchen is designed to house a wide array of cooking items from pots to pans, making it essential to maximize space use as much as possible. For this reason, Wallingford homeowners would need both cunning and wit to plan their kitchen while ensuring that every bit of utensil gets stashed cleanly within the space.
So how exactly can this be done? Following are some tips when it comes to Wallingford kitchen remodeling.
The Triangle Method
According to the National Kitchen and Bath Association, the kitchen should have an imaginary line connecting the sink, the refrigerator and the cook top. Imagine a triangle running from the center of the sink to the cook top going to the refrigerator and finally back to the center of the sink. This serves as the foundation of the kitchen layout with the various appliances placed neatly in between the three posts. Measurements indicate that the area covered by the triangle should be below 26 feet.
Maximizing Efficiency
There are hundreds of possible items that may be placed in the kitchen so devising a rule for the placement of each one can be hard. Hence, Wallingford homeowners are asked to follow one simple rule when planning out their positions: make sure that when using the item, there are no other appliances that would be disturbed. For example, when opening the cabinet, it shouldn't bump on the refrigerator or the coffeemaker. (Your Wallingford remodeling contractor can advise you on this to ensure your kitchen design does not have such issues.
Hide Appliances
Some homeowners like to hide various appliances in wall niches in order to make the kitchen more attractive. At the same time, this would also make it possible to use the extra space for another appliance. Ideally, homeowners should store unused items in one place so that those that are often used would be more accessible.
Look for Samples
Of course, imagining all these changes would be tough especially for someone who is doing the remodeling for the first time. Hence, make sure to browse through magazines in order to get ideas about what changes could be done. Wallingford kitchen remodeling contractors also have samples from portfolios which could provide the homeowner with ideas. Even better, deriving a design from the contractor's portfolio usually means that they are capable of accommodating the design easily.
Use Software
There are currently programs that make it possible for homeowners to lay out their design ideas and print it out. Try using some of these tools to get a visual confirmation of how colors, design and appliances would blend in together to form the perfect kitchen. Some of these tools are available for free although they provide limited options, but that should be enough to start with.
Lastly, don't forget to settle on a budget and talk it out with the contractor. Ask for an estimate and be very specific about what is exactly covered on the given rate. Don't choose a contractor immediately; instead ask for different opinions before deciding on the best business to work on the Wallingford kitchen remodeling project.