Wallingford Kitchen Remodeling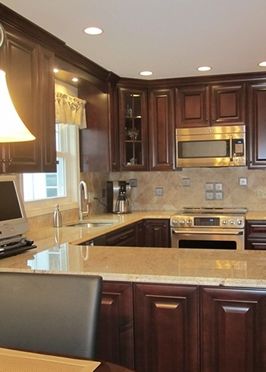 Bencar Building Systems is known for producing high quality kitchen remodels that are both beautiful and functional. We know that kitchen remodeling is a major investment with many difficult decision to make. We also know that when extra costs arise during the project, it can make matters worse. Our Wallingford kitchen remodeling specialists have heard horror stories from clients about surprise costs the last time they remodeled their home, and we understand their apprehension to take on such a large project. However, at Bencar Building Systems we think the home remodeling process we've developed over the years helps you avoid that type of shock.
Before we get started on your kitchen renovation, we get firm prices on our materials and from our subcontractors. If kitchen cabinets, countertops and tile flooring are involved, you select everything before we put a price on your kitchen remodeling project. We also let you purchase your kitchen appliances, plumbing fixtures and light fixtures, allowing you to select exactly what you want within your price range. We make sure to address all the details prior to the start of the project, ensuring you don't get any surprises at the end of the job. There are no hidden fees, and we include labor and building materials in the cost of your kitchen remodeling estimate.
Once we're on the job, any additional work you decide to include with the kitchen remodel is priced and written up as a change order. The change order is signed off by you before any work is completed, so you know exactly what price to expect once your kitchen remodeling project is completed. When your kitchen remodeling project is done, we do a walkthrough with you to ensure you are pleased with the work. We'll take care of anything you feel requires a touchup. Then you can enjoy your new kitchen!
If you are thinking about remodeling your kitchen, give our expert Wallingford kitchen remodeling contractors a call today. We would love to help you turn your kitchen ideas into a reality with our expert guidance and talented crew of contractors. Bencar Building Systems is a licensed and insured Wallingford remodeling contractor, and we only work subcontractors that we trust to provide you with the same quality service that we do. From kitchen design to installing custom cabinetry, granite countertops, and kitchen flooring, Bencar Building Systems is the company homeowners rely on for beautiful new kitchens!
Our Wallingford Kitchen Remodeling Contractors Provide These Detailed Services
Kitchen Remodeling
Home Remodeling
Granite Countertops
Cabinetry
Kitchen Design
Kitchen Renovation
Kitchen Ideas
New Kitchens
Kitchen Cabinets
Kitchen Countertops
Kitchen Flooring
Remodeling
We Provide Kitchen Remodeling in The Following Towns in Connecticut
Wallingford, CT | North Haven, CT | Cheshire, CT | Cromwell, CT | Middletown, CT | Branford, CT | New Haven, CT | Guilford, CT | Madison, CT | Durham, CT | View More Service Areas