Why Should My Wallingford Kitchen Remodeling Design Consider a "Work Triangle"?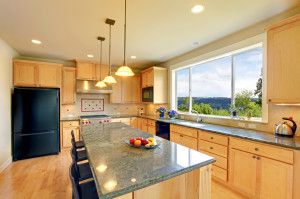 Most kitchen designs are based on a layout that considers the "work triangle". The theory behind the work triangle is to position the sink, refrigerator and the range or cook top in a triangle because this is the most efficient use of the space in a kitchen. The three fixtures then form the points of a triangle, with the distance between them being between four and nine feet.
Wallingford kitchen remodeling design experts say that if there is less than four feet between these fixtures, the space is too cramped to work. If the distance is more than nine feet, the result is waste of energy, time due to too much walking. This traditional layout of kitchens still tends to be preferred in kitchen design both in new construction and in kitchen remodeling.
There are many ways to design the layout of a kitchen in Wallingford to provide a work triangle. The sides of the triangle do not, of course, need to be the same size. If, for example, all kitchen counters and appliances are on one wall, the layout would be such that there is no more than nine feet between any two of the main fixtures.
In a larger kitchen or a kitchen with an L-shaped layout of two of the fixtures, adding an island in which the cook top is located will make the triangle smaller. In a large kitchen, you can create work areas for different types of cooking, with additional sinks. In this case, your kitchen design might incorporate two or more work triangles.
It is also possible to design a work triangle in a kitchen in a way that will direct traffic away from the work area. In kitchens open to dining areas, this can be an important consideration.
Islands and peninsulas can often be added to kitchens which are inefficiently designed to reduce the size of the work triangle or to create an efficient work triangle. These spaces can also be used to set off the work area, to provide additional counter space or work space, and to provide additional storage. Islands and peninsulas can also be used to create dining space in the kitchen.
It is increasingly popular in larger kitchens to create functional areas within the kitchen, such as a baking area or a grilling area. These functional areas can each fit into or create a work triangle by adding additional refrigerators, sinks, etc. A baking area, for example might be designed in a way that makes the oven a point in the triangle. However, if this is the case, access to the cook top or range should also be considered.
Thinking creatively and considering the value of the work triangle should help you create a functional design for your Wallingford kitchen remodeling project that will be efficient as well as pleasing to the eye. Be sure to discuss matters with your Wallingford remodeling contractor, as they will be able to provide you with a wealth of knowledge regarding your existing kitchen design as well as how to best go about transforming it into the kitchen of your dreams.