Hire a Professional for your Wallingford Bathroom Remodeling Needs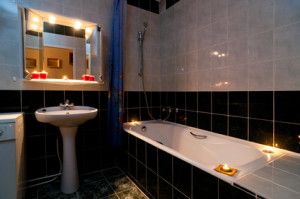 Bathroom remodeling is not to be taken lightly – it is a huge project. It is also an hefty investment, and that is why this is a project that is not a good idea to do on your own. A Wallingford remodeling contractor is what you need. There are many contractors to choose from, however, and this can make finishing your bathroom remodel that much more difficult. How do you find the right contractor for the job? This article will give you a few tips in choosing a good Wallingford bathroom remodeling contractor.
The foremost concern is to find a Wallingford remodeling contractor that has an excellent reputation in the industry. You've got to find one that has a lot of experience in remodeling bathrooms, ensuring every detail and specification you want will be handled efficiently as opposed to hiring a contractor without enough experience doing the type of work you need done.
In Walling bathroom remodeling, there will often be a lot of tear-outs, as well as redesign of your existing plumbing system and other bathroom features. There are a lot of things to work on like plumbing, redoing the tiles, or replacing existing features such as water heaters, tubs, and sinks, if you are engaging in a complete makeover of your bathroom. An experienced Wallingford remodeling contractor would have a vast knowledge of what will work for your area and what will not. They also have a good grasp of the market so you can be sure that you will have quality structures and materials for your newly remodeled bathroom while providing you with a value that is worth the investment.
The best option is to ask for referrals from friends, neighbors, and family. They might know a few people who have done some remodeling jobs for their homes. You can also check online. You will definitely find a lot of contractor sites; however, if you are not too familiar it may still be hard to choose the best. If that is the case, then you can try some referral websites or review sites. The ratings, comments, and consumer reviews will be helpful in your quest to finding the right Wallingford bathroom remodeling contractor for your project.
Once you have a list of possible candidates, you can discuss the project with each of the possible contractors separately. That is a good way to compare which one can give you the best and reasonable quotes. That is also an excellent gauge to evaluate what each of the possible candidates can offer. It is just important to give each of the candidates the same specs of the project so that each of them will bid for the same project.
It is best to give each bathroom remodeling contractor written requests so that they can see a complete summary of all the things that you want to be done. A professional contractor will give you a professionally written proposal.
Once you have chosen the contractor that gave you the best proposal, you will have to be provided with a written contract stating all the details about the project, materials to be used, and the time frame for its completion. Before you sign the contract, you have to make sure that all the specs are stated in the contract.
One last thing, do not be tempted to go for the contractor with the least expensive quotation. You have to realize that this is not the best deal most of the time. It is important to carefully evaluate each of their proposals and choose a Wallingford bathroom remodeling contractor that will use the best quality materials, an experienced level of the people that will do the work, and the most reasonable estimated time of completion.