Bencar Building Systems of Wallingford, CT Awarded Best Of Houzz 2016
Over 35 Million Monthly Unique Users Nominated Best Home Building,
Remodeling and Design Professionals in North America and Around the World
January 14, 2016 – Bencar Building Systems of Wallingford, CT has won "Best Of Customer Service 2016" on Houzz®, the leading platform for home remodeling and design. Bencar Building Systems a family-owned business was chosen by the more than 35 million monthly unique users that comprise the Houzz community from among more than one million active home building, remodeling and design industry professionals.
The Best Of Houzz is awarded annually in three categories: Design, Customer Service and Photography. Design award winners' work was the most popular among the more than 35 million monthly users on Houzz. Customer Service honors are based on several factors, including the number and quality of client reviews a professional received in 2015. Architecture and interior design photographers whose images were most popular are recognized with the Photography award. A "Best Of Houzz 2016" badge will appear on winners' profiles, as a sign of their commitment to excellence. These badges help homeowners identify popular and top-rated home professionals in every metro area on Houzz.
"Anyone building, remodeling or decorating looks to Houzz for the most talented and service-oriented professionals" said Liza Hausman, vice president of Industry Marketing for Houzz. "We're so pleased to recognize Bencar Building Systems voted one of our "Best Of Houzz" professionals by our enormous community of homeowners and design enthusiasts actively remodeling and decorating their homes."
About Bencar Building Systems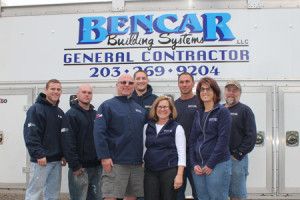 Bencar Building Systems is a family-owned remodeling contractor located in Wallingford, CT that is here to help the homeowner with all their remodeling needs from building room additions to renovating existing rooms in their home. We have over 25 years of experience in the construction and remodeling field on our team and also have full-time office staff to answer our customers questions and concerns Monday through Friday. Our customers trust us to provide high quality work at prices they can afford as well as treat their home with the care it deserves. Everyone at Bencar Building Systems is dedicated to their work and to making your remodeling dreams come true.
Follow Bencar Building Systems on Houzz http://www.houzz.com/pro/bencar/bencar-building-systems-llc